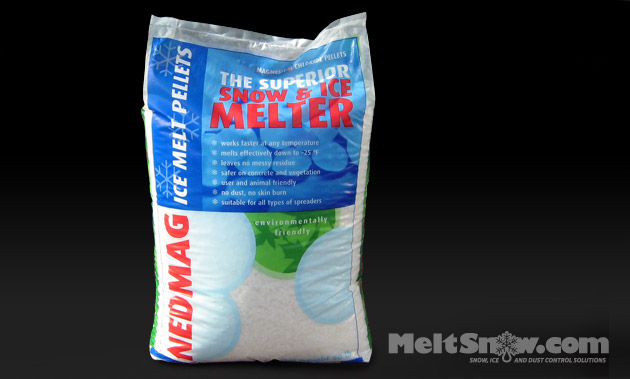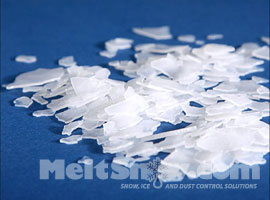 Flakes
nedMag Magnesium Chloride Flakes are small white ­flakes of magnesium chloride hexahydrate (MgCl2.6H2O).   Safe for people, pets, plants and the environment, nedMag C® deicing flakes melt ice and snow effectively down to -25C. 100%.  Pure Hexahydrate magnesium chloride (47% MgCl2) is less corrosive to metals and less damaging to concrete than most commonly used de-icing alternatives. Magnesium chloride flakes are 50% less toxic than common baking soda and leave a clear liquid residue minimizing tracking of product.
The product is used in many industries for a wide variety of applications, including:
Snow and ice control
Drilling mud and completion fluids in the oil industry
Fertilizer mixtures as a source of Mg
Oxychloride cements such as fire-proof sorel cement wallboard
Dust control on unpaved roads, parking lots, and mining haul roads.
Textiles in the dying process
Tire ballasting of construction tires (for weight)
Waste water treatment as a catalyst and source of magnesium
Packaging
nedMag Magnesium Chloride Flakes are available in 2,205 lb. super sacks or bulk bags, and in 50 lb. heat sealed poly bags packed either 40 or 45 bags per pallet.
Super Sacks – 1 sack/pallet
25 kilogram bags – 40 bags/pallet
50 lb. bags – 45 or 40 bags/pallet
Storage and Handling
nedMag Magnesium Chloride Flakes are very hygroscopic.  Store all product in a dry place and promptly re-seal opened bags.
More Information
nedMAG Magnesium Chloride Flakes (PDF)
MAG® de-icer brochure (PDF)
Check out our Technical Article on MAG Care and Feeding for Dust Control in Indoor Horse Arenas