Blizzard Wizard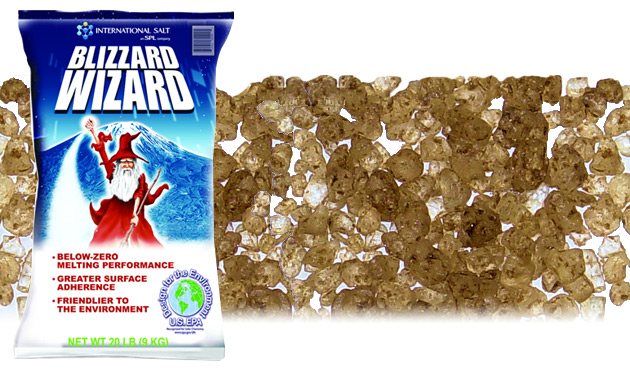 Blizzard Wizard® Ice Melt is a US Environmental Protection Agency Designed for the Environment (EPA DFE) certified encapsulated salt product that is the packaged component of our treated salt products.  This premium enhanced salt product is produced from our dried and screened halite which is coated and encapsulated with Magnesium Chloride and an agriculturally derived organic corrosion inhibitor additive providing a true performance product with a healthy respect for the environment.
Blizzard Wizard is produced from a completely natural salt product that is carefully screened to uniform particle size, then encapsulation coated with a blend of magnesium chloride and an agriculturally derived organic corrosion inhibitor additive, and packaged.  Contains Sodium Chloride, Calcium Chloride, Magnesium Chloride, and Organic based sugars.
Performance blend melts snow and ice down to -6°F
50 lb. heat sealed plastic bags packed 50/pallet
48"x40" 4 way entry pallets stretch wrapped with bottom slip sheet
Attractive packaging with bar coding that has excellent retail appeal
Uniform particle size to facilitate easy flow in most spreaders
Aggressive melting performance
Gentle on vegetation
Long-lasting residual effects
Slow dilution
Treated surfaces retain an "ice shield" that can prevent ice and snow from bonding to surfaces
Blizzard Wizard® DEICER
Blizzard Wizard® Premium Ice Melter is available in truckload quantities of 18 pallets minimum packaged in 10#, 25#, 40#, and 50# heavy-duty poly bags; 50# pails; and, 12# jugs.