nedMAG Flakes and Pellets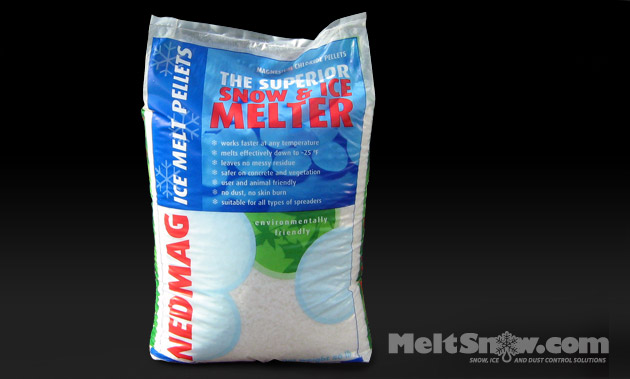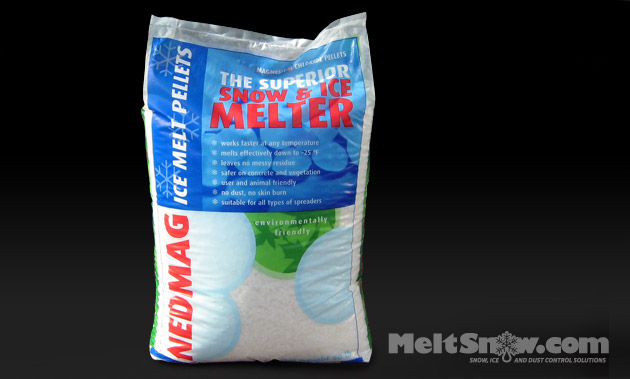 nedMag Magnesium Chloride Flakes and Pellets
nedMag dry magnesium chloride is available in two forms: flakes or platelets, and pellet or pastille which is a half sphere form.
Pellets
nedMag C® Magnesium Pellets are small white pastilles – half sphere pellets – of pure magnesium chloride hexahydrate produced in an ISO-9000 certified production facility in the Netherlands. ISO certification assures users that the material will always be of the same quality and consistency from bag to bag and year to year.
This unique form was developed to provide the stay-put features of a flake combined with the particle mass of a pellet to enable boring through ice to reach the surface below and release its frozen bond thus facilitating easy mechanical removal with minimal deicer use.  Pastilles outperform conventional spherical pellets when applying in wind or onto sloped or stepped surface areas where pellets will roll away from the target treatment area.  nedMag C® Magnesium Chloride Pellets are a 100% natural product harvested from magnesium rich brine reserves deep beneath the Netherlands.   Our magnesium chloride pellet products are used in many industries for a wide variety of applications including:
nedMag C® de-icing pellets can be spread easily and because of its half drop shape will stay in place and will not bounce away. Magnesium chloride pellets are ideal for the safe, non-toxic, rapid de-icing of schoolyards, gas stations, shopping centers, hospital grounds, and environmentally sensitive areas adjacent to water supplies and wetlands. The high melting capacity of our de-icing pellets prevent snow and ice from freezing to the road surface. Due to the hygroscopic characteristics it works much longer than traditional road salt. nedMag C® de-icing pellets are a 100% natural product and can be used with confidence directly or as a component of blended deicers.
Packaging
MeltSnow.com's nedMag C® Magnesium Chloride Pellets are available in 2,205 lb. (1 metric ton) super sacks, in 25 kg bags, and in 50 lb bags packed 40 or 45/pallet.  Each pallet of our nedMag C® pellets is stretch wrapped and the wooden pallet corners are each shaved at a 45o angle to minimize chances of sharp corners cutting and damaging bags and products on adjoining pallets in handling, a very nice feature that is standard in Europe.   The pallet rain cover and stretch wrapping enable temporary outside storage of product.  Additionally, when stored outside we always recommend the use of an opaque tarp to ensure that any penetrations to the rain cover and stretch wrapping do not allow moisture to sneak in, or sun to fade the packaging.
For retail customers, the bag is well designed with a see-through window showing the pure white product inside along with green label celebrating the environmentally friendly feature of this very safe and low toxicity deicer.    Your retail customers can see the product they are buying in the clear packaging!  This is the only clear packaged premium deicer currently available in the US market.
Available Warehouses:
MeltSnow.com Magnesium Chloride products are available directly from seaport warehouses in Pennsylvania, New Jersey, and Massachusetts or through any of our regional distribution warehouses located throughout the US.
Storage and Handling
MeltSnow.com Magnesium Chloride Pellets are very hygroscopic, all opened packages should be resealed promptly after use and stored in a dry place.
More Information
nedMAG Magnesium Chloride Pellets (PDF)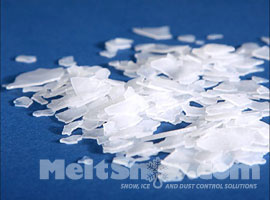 Flakes
nedMag Magnesium Chloride Flakes are small white ­flakes of magnesium chloride hexahydrate (MgCl2.6H2O).   Safe for people, pets, plants and the environment, nedMag C® deicing flakes melt ice and snow effectively down to -25C. 100%.  Pure Hexahydrate magnesium chloride (47% MgCl2) is less corrosive to metals and less damaging to concrete than most commonly used de-icing alternatives. Magnesium chloride flakes are 50% less toxic than common baking soda and leave a clear liquid residue minimizing tracking of product.
The product is used in many industries for a wide variety of applications, including:
Snow and ice control
Drilling mud and completion fluids in the oil industry
Fertilizer mixtures as a source of Mg
Oxychloride cements such as fire-proof sorel cement wallboard
Dust control on unpaved roads, parking lots, and mining haul roads.
Textiles in the dying process
Tire ballasting of construction tires (for weight)
Waste water treatment as a catalyst and source of magnesium
Packaging
nedMag Magnesium Chloride Flakes are available in 2,205 lb. super sacks or bulk bags, and in 50 lb. heat sealed poly bags packed either 40 or 45 bags per pallet.
Super Sacks – 1 sack/pallet
25 kilogram bags – 40 bags/pallet
50 lb. bags – 45 or 40 bags/pallet
Storage and Handling
nedMag Magnesium Chloride Flakes are very hygroscopic.  Store all product in a dry place and promptly re-seal opened bags.
More Information
nedMAG Magnesium Chloride Flakes (PDF)