Pure & Natural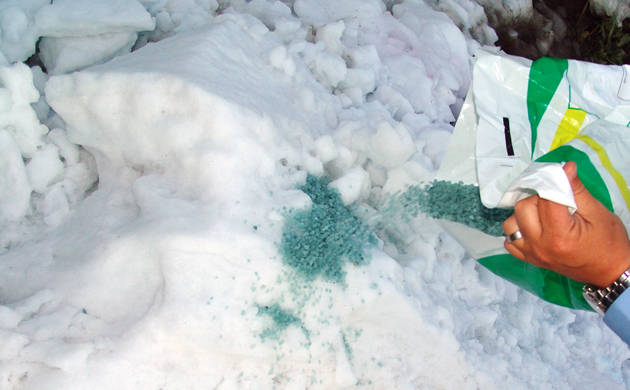 Pure & Natural
Pure and Natural is a blended deicer made up of Sodium Chloride, Calcium Chloride, and Magnesium Chloride providing a true performance product with a healthy respect for the environment.  Pure & Natural showcases our EnviroIndicator which is an organic biodegradable color that is added to provide visual confirmation of application providing a safe and effective treatment.
Pure & Natural Deicer is a completely natural deicing product that is mined in the Northern Chilean desert, then carefully screened to uniform particle size and packaged.  In its natural state, it is a white crystalline granule.  Pure & Natural contains all the freeze point lowering chlorides that make it ideal for most deicing applications.
Contains Sodium Chloride, Calcium Chloride, and Magnesium Chloride
Performance blend melts snow and ice down to -6°F
EnviroIndicator: A very small amount (0.00025%) of a biodegradable non-ultraviolet stable organic dye is added so that when applying to white snow and ice users can easily identify treated areas.
EnviroIndicator prevents over application which also helps the Environment
50 lb. heat sealed plastic bags packed 50/pallet
48"x40" 4 way entry pallets stretch wrapped with bottom slip sheet
Attractive understated bag that has excellent retail appeal
Uniform particle size to facilitate easy flow in most spreaders
Proven commercial/professional formula
PURE & NATURAL DEICER SPECIAL
Available in truckload quantities of 18 pallets minimum to any East Coast location between Washington, DC and Boston, MA – Ships day of order with credit card payment, while supplies last.